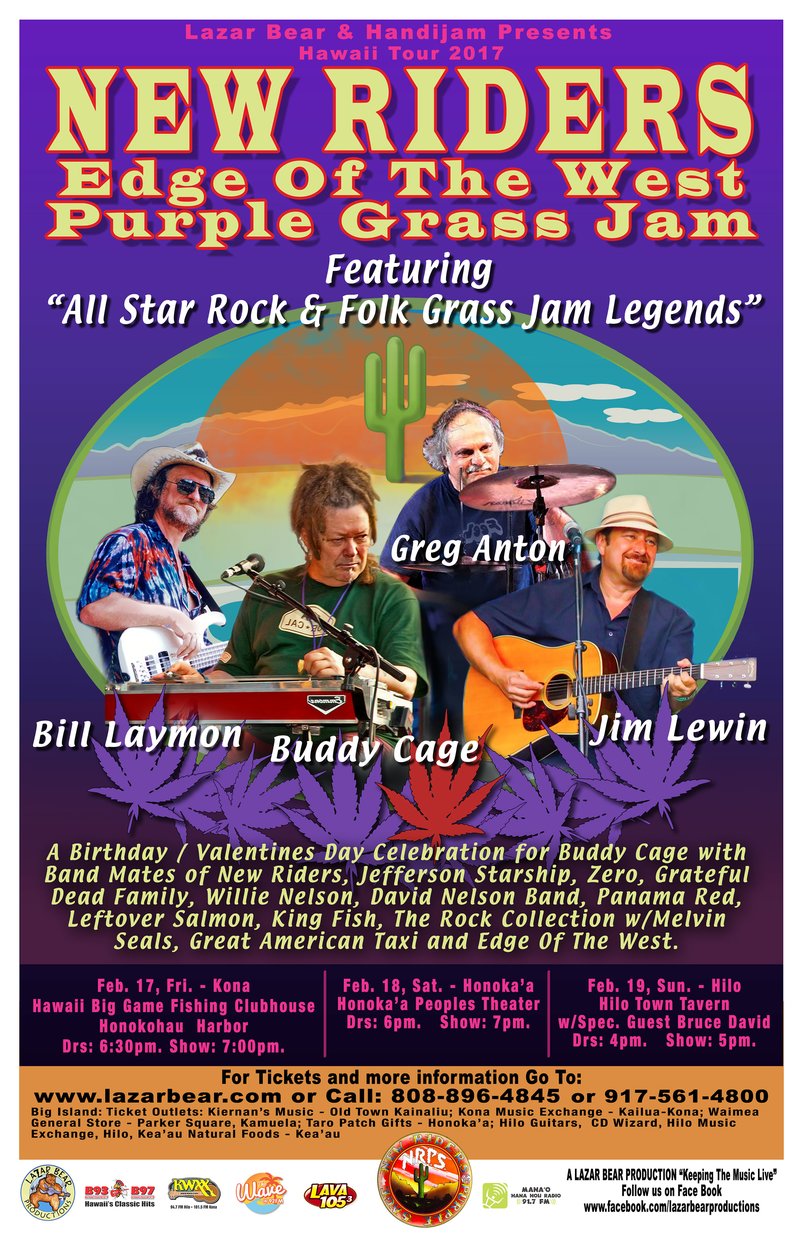 Lazar Bear & Handijam are proud to present - New Riders Edge Of The West Purple Grass Jam
featuring "All Star Rock & Folk Grass Legends" Buddy Cage, Greg Anton, Jim Lewin and Bill Laymon
A Birthday Celebration for Buddy Cage with members of New Riders, Jefferson Starship, Big Brother & The Holding Co., Zero, Grateful Dead Family, The Rock Collection w/ Melvin Seals, Willie Nelson, David Nelson Band, King Fish, Leftover Salmon, Great American Taxi and Edge Of The West
Not only has Buddy Cage sold over four million records in his ten years with NRPS, but he has also performed on many gold and platinum albums during his distinguished career including Blood On The Tracks (Bob Dylan), The Official Bootleg Tapes (Dylan) and various releases with Ann Murray. Cage has also recorded with Grateful Dead Members Garcia, Weir, and Hart as well as with Dead lyricist Robert Hunter, Ian and Sylvia, John Cipollina - Quick Silver Messenger Service, Rick Danko and Garth Hudson - The Band, David Bromberg, Bonnie Raitt, Pappa John Creach - Hot Tuns, Willie Nelson, Richie Havens and Johnny Cash.
Jim Lewin
is a guitarist, songwriter, and producer currently based in Santa Cruz, CA. He is stylistically eclectic with deep roots in bluegrass, country, and rock n' roll, and is known for his skillful playing on both acoustic and electric guitar. His band Edge of the West is appearing regularly with a new record dropping in May. Jim is also known for his work with some of the most interesting renegade artists in Americana, bluegrass, jam band and country. He's a long time member of alt-country jamband Great American Taxi who has toured extensively and received much airplay and critical acclaim. He has also worked a lot with Todd Snider, Frank Wakefield, Lacy J. Dalton, Harmony Grits, and has collaborated occasionally on stage or in the studio with many rootsy favorites such as Peter Rowan, Billy Kreutzmann, Leftover Salmon, Flaco Jimenez, Gillian Welch and David Rawlings, Jeff Austin, and Jack Casady.
Edge of the West Duo is Jim Lewin and Bill Laymon,
two musicians with deep resumes in the Americana, Jamband, Bluegrass and "Hippie Country" scenes. They are each accomplished sidemen, as well as each being songwriters and bandleaders in their own right. Bill is well known as a long-time member of New Riders of the Purple Sage, and as a founding member of the David Nelson Band, plus for doing stints with Jefferson Starship, Big Brother and the Holding Company and others of that ilk. Jim is known as a guitarist with Great American Taxi, Todd Snider, Frank Wakefield and has also appeared occasionally with luminaries like Bill Kreutzmann, Peter Rowan, Gillian Welch, Leftover Salmon and many more. Together, Lewin and Laymon, friends and collaborators for 3+ decades, have a vast repetoire of originals and covers and a way of playing together that only can evolve from eons of gigs and adventures together.
Greg Anton
is a drummer, composer and co-founding member, with guitarist Steve Kimock of the band Zero.
Greg has performed on numerous recordings and at thousands of concerts worldwide. He has played most extensively with his band Zero,[ which has released eight albums and performed over 1300 concerts.[ Greg began playing drums at age 11. At age 13, due to an accident, he suffered a traumatic amputation of his left hand. Using a prosthetic device, he continued playing drums and began performing professionally while in high school. He's published more than 50 original songs, many of which were co-written with Grateful Dead lyricist Robert Hunter. Greg has also composed music for film, TV and theater. Among others, Greg has performed or recorded with John Cipollina (Quicksilver Messenger Service, John Lee Hooker, Stanley Jordan, Otis Taylor, Nicky Hopkins (Rolling Stones) and members of the Grateful Dead. He currently tours with The Rock Collection, featuring Melvin Seals (Jerry Garcia Band), Dan "Lebo" Lebowitz (ALO), Stu Allen (JGB, Phil Lesh and Friends), and Robin Sylvester (Bob Weir's Ratdog).
is a well renowned & respected musician, bassist, songwriter, producer& educator based in San Francisco - Bay Area.
Perhaps best known for his many years as bassist for the New Riders of the Purple Sage, as well as the critically-acclaimed David Nelson Band, his credentials also include numerous tours of duty with the world-renowned Jefferson Starship, Big Brother & the Holding Company, Al Jardine (Beach Boys), Kingfish, Lacy J. Dalton and hosts of other high-profile & successful acts.
"One of the signs that you've made it to the major leagues, in whatever field, is the reliable excellence of your mates in the arena. Bill Laymon is a case in point, when the notes are flying thick and fast onstage, you can count on him to be there, paying attention and responding with brightness and wit." - Tom Constanten - Grateful Dead
Three Shows On the Big Island
Hawaii Big Game Fishing Clubhouse Honokahau Harbor
74-5081 Kai Opua St. Kailua-Kona, Hi. 96740
$25.00 Gen. Adm. $45.00 Meet & Greet
Doors: 6:30 pm. Show: 7:00 pm.
45-3574 Mamane St. Honoka'a, HI 96727
Information: 808-896-4845 $25.00 Gen. Adm. $45.00 Meet & Greet
Doors: 6:00 pm. Show: 7:00 pm.
Hilo Town Tavern w/Special Guest Bruce David
168 Keawe St. Hilo, HI 96720
information: 808-896-4845 $25.00 Gen. Adm. $45. Meet & Greet
Doors: 4pm. Show: 5pm.
For Tickets and more information Go To: lazarbear.com or Call 808-896-4845 or 917-561-4800
Ticket Outlets:
Kiernan's Music - Old Town Kainaliu; Kona Music Exchange - Kailua-Kona; Waimea General Store - Parker Square, Kamuela; Taro Patch Gifts - Honoka'a; Hilo Guitars, CD Wizard, Hilo Music Exchange, Hilo, Kea'au Natural - Kea'au